Watch Dogs 2: Story Trailer
Play Sound
CTOS ACCESS MONITORED:

Anyone can edit this page, but all edits are checked and monitored.
Watch Dogs 2, stylized as WATCH_DOGS 2, is an open-world action-adventure third-person video game developed by Ubisoft Montreal and published by Ubisoft. It was released worldwide on November 15, 2016, for PlayStation 4 and Xbox One,[1] with a PC port released on November 29, 2016.
The sequel to its 2014 predecessor, Watch Dogs 2 takes place in San Francisco, California. The player takes control of Marcus Holloway, a hacker and a member of the hacktivist group DedSec who aims to take down CTOS 2.0. The game was followed by Watch Dogs: Legion in 2020.
Summary
When Marcus Holloway, a self-taught hacker, is accused of a crime against the HDC, for a high-tech burglary he did not commit, he takes the fight to them and reveals their corruption. Soon after he is put through a trial by DedSec to erase his digital shadow in a Blume server farm, and while inside he realizes how much data is being collected by the system. The story follows the events of the first game, with CTOS 2.0 being installed across the United States. The player's mission is to reveal the corruption of the CTOS 2.0 system by the CTO of the Blume Corporation, Dušan Nemec. DedSec members, inspired with the works of T-Bone and Aiden Pearce, are determined to take the fight to the enemy.
Plot
Following the events of Chicago, San Francisco becomes the next city to install the CTOS (central Operating System), which connects everyone with everything. Marcus Holloway, an intelligent hacker from Oakland, California, is punished for a crime he did not commit by the upgraded CTOS 2.0 system, which categorizes him as the suspect. Realizing the system covertly brings harm to the innocent citizens of San Francisco, he decides to work with the hacking group DedSec to take down the city's CTOS 2.0, and Blume, the main company behind it.
Marcus joins DedSec and works with the fellow hackers Sitara, Wrench, Horatio, and Josh, and they begin using their skills to expose corrupt organizations and corporations that are secretly using stolen personal CTOS data for their own personal gain. The game begins with Marcus' DedSec initiation test: deleting his own CTOS profile from the database. Being successful, he is accepted into DedSec. He is soon alerted about a fake church called New Dawn that serves as a criminal organization. Eventually, Marcus stumbles upon the existence of Bellwether, a data manipulation program being fed CTOS data by Dušan Nemec, Blume's CTO, to manipulate world finance and politics. DedSec later manages to recruit the assistance of old-time hacker Raymond "T-Bone" Kenney, who is determined to battle Blume.
With his assistance, DedSec manages to expose the corruption of the FBI and numerous Silicon Valley corporations, such as Nudle, Tidis, and Galilei, and take down the ringleaders of the Tezcas, a violent street gang who kidnapped DedSec member Horatio Carlin and killed him after he refused to cooperate with them. Learning that Blume is planning to install a satellite network designed to bypass undersea data cables, which would effectively give Blume a monopoly on the entire world's electronic data and stock exchanges, they infiltrate the launch area of one of the satellites to install a backdoor. In order to take down Blume and Dušan for good, Marcus breaks into Blume's San Francisco headquarters and hacks their servers, exposing the existence of Bellwether and Dušan's corruption. Dušan is arrested for fraud and Blume is put under investigation, though DedSec resolves to continue their fight against Blume.
In an extended ending scene added in a post-release patch, two unidentified individuals note that more DedSec cells and hacktivist groups have been emerging worldwide in response to the San Francisco Blume scandal and that it is time to put their own plans into motion, hinting at Watch Dogs: Legion and DedSec's growing global presence.
Gameplay
Watch Dogs 2 features a new protagonist; Marcus Holloway. All hacks from the previous game have returned, along with new, more in-depth hacks called "contextual hacks." When the player activates the NetHack View, instead of the previous on-screen display window, the entire screen morphs into a hacking view outlining civilians, automobiles, and any hacking opportunities.
In Watch Dogs 2, you are now part of DedSec, and the game introduces a co-op system in which the player can complete side missions and explore the world with another player. New vehicles have been introduced, such as scooters and ATVs. The player has an RC Jumper and a Quadcopter which they can deploy anytime, through which they can hack objects mentioned above. The parkour has changed drastically so that the player can climb faster and move around the environment more fluidly.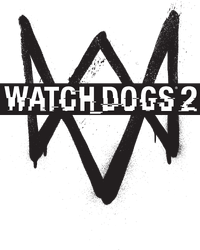 The multiplayer mode has also been revamped. In addition to the new co-op gameplay and the classic hacker invasion mode, new PvP (player-vs-player) elements have been introduced in the form of the "Bounty Hunter" mode. In Bounty Hunter, if a player causes too much chaos in-game or forges evidence against themselves, up to three other players at a time can be inserted into the target's game and simultaneously attack said player, along with the assistance of the local police force. Bounty Hunter is also made more dynamic in that it is also possible for two players in co-op to be attacked by two other players if one of them has a bounty on them.
The police A.I. has undergone a major overhaul from its heavily criticized predecessor, the Chicago Police Department. The police can now arrest NPC's who commit crimes, even if Marcus frames them with fake evidence and have them arrested in result. The police will also break up any street fights and respond with lethal force to criminals who are actively shooting at the player or themselves. They can also be seen on patrol more often in the streets, increasing the chances of assisting Marcus to clear out an area full of thugs, provided that he himself does not get involved.
Another addition is the implementation of conflict. Two or more factions, or gangs, in conflict can engage in large gunfights or even chaos to the area of the conflict, providing a challenge and distraction for the player. The player will be alerted in the top-right hand corner of the screen when factions engage in combat.
Development
Tony Key, senior vice president of Ubisoft, said at E3 2014 that the commercial success of Watch Dogs showed that the brand has staying power. In 2015, a Ubisoft developer accidentally revealed that Watch Dogs 2 was in development, further suggesting that the game is in the works.[2] In May 2016, the game was confirmed and from then until November 15, its release, many early gameplay videos and features were revealed.
The development of Watch Dogs 2 was very heavily influenced by feedback from the first game. One of the first things the developers worked on were the driving mechanics, which senior producer Dominic Guay described as "polarizing" in the first game, and that "some people liked it, some people didn't like it."[3] Other things added into the game based on player feedback from the first game included a more "likable" protagonist, expanded gameplay mechanics more centric around hacking, a more expansive and interactive open world, and more customizable clothing options.[4] Further player feedback also caused Ubisoft to delay the release of the PC port by two weeks, in order to incorporate features specifically requested by PC players.
Reception
Watch Dogs 2 received "generally favorable" reviews, according to review aggregator Metacritic getting a Metascore of 75/100 on PC,[5] 82/100 on PS4,[6] , and 81/100 on Xbox One.[7]
In his review, Destructoid's Zack Furniss praised the sequel's tonal shift to a lack of seriousness and stated that its protagonist Marcus Holloway boasted a similar charm and wit. He thought well of the hacking component as it was suggestible to multiple fields of use, and enjoyed its nature of compatibility with a non-lethal approach; in fact, Furniss felt that for this reason firearms could have been excluded entirely. The driving was lauded as an improvement from the first game, yet technical issues like glitches and low frame rates were cited as shortcomings.To Matt Buchholtz, writing for EGM, the game signified "less a hacktivist tale and more a beautiful immersion into the San Francisco Bay". The setting, characters, and story were cited as considerable refinements from its predecessor. Buchholtz discerned that the tasks demanded to gain followers were successful in encouraging world exploration. He noted however that – in context of the main character – murder made little sense, which led to an increased usage of stealth. Elise Favis at Game Informer both disparaged and praised elements in comparison to those of Watch Dogs. She enjoyed that hacking was prioritized in the gameplay and the new "smoother" driving mechanic, but saw inconsistencies in the protagonist's actions versus his personality and thought supporting characters "too obnoxious and petty to be meaningful companions". Favis also experienced low frame rate capabilities on PlayStation 4. Aron Garst of Game Revolution stated that Watch Dogs 2 had redressed "nearly every negative aspect of the original", and as such, marked a favorable change in the franchise.
IGN's Dan Stapleton liked Marcus Holloway more than Aiden Pearce of the first game and similarly appreciated the supporting characters of DedSec. Marcus' penchant for moral integrity was a noticeable contradiction for Stapleton, though, in light of the prospect to have him kill innocent people if one so chooses. Therefore, the character's personality was observed as the only preclusion to violence and an axiomatic push toward the stealth approach, which Stapleton insisted was the most accommodating of available tools. Writing for Polygon, Philip Kollar saw that Watch Dogs 2 could appeal to those able to connect with "being young, angry at the system and certain that you know what's best for the world". Its tongue-in-cheek demeanor was said to naturally coincide with the hacker culture and open-world genre. San Francisco – the spaces of which were described as "cleverly designed" – never felt overwhelming in size to Kollar but inspired joy as he took advantage of the immediate ability to explore it entirely. His complaints concerned firearms; their use was considered "a complete failure of imagination" and unbelievable from the members of DedSec—"an Anonymous-esque group of peaceful hacktivists". Alice Bell of VideoGamer.com wrote in her verdict, "Watch Dogs 2 is missing a bit of refinement ... but joining DedSec is still a riot and a half. It's high energy fun with engaging characters, and you can make an entire city your playground".
Videos
References