I am a Bureaucrat on this wiki.

That means I am trusted with the tools necessary to protect this wiki.
Message me if you have any problems, suggestions, or notice anything bad.
Thank you for choosing Chris6d. Whatever you need, he will help.

Welcome to the user page of Chris6d, User.

I've been active on this wiki since April 2015. I became admin here on June 13, 2016, and bureaucrat on November 18, 2016. Read below for more on this.
Early morning, afternoon, and evening on weekdays; late morning, afternoon, evening and possibly night on weekends (Eastern Time, NYC). This varies accordingly. See below for more.
❝ Do what your heart desires, and you will achieve what your heart desires.❞
―Chris6d
Watch Dogs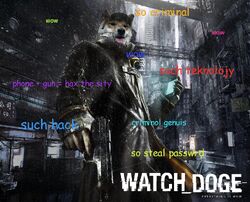 So, I guess I should write something here. Well then, I am a fan of many games, including the GTA series, inFAMOUS series, and Watch Dogs series. I sometimes play video games on my PS4 when I get the chance (I'm a very busy man, from my company (that I own) to my family, wife and kids, etc. It's a busy but absolutely epic and fun life). Honestly, Watch Dogs was one of the best and most entertaining games I've ever played, despite its heavy criticism. But that's my personal opinion, so you can't change or hate on it.
Watch Dogs 2 was better than the first game world-wise (the open world and environment is much better), but yet, I still feel that the first game was better in terms of the storyline and gameplay elements (and yes, I do like Aiden better than Marcus). Again, this is my personal opinion, so no hate. But I am glad that WD2 finally introduced City Buses, something that was stupidly absent from the first game. It's also sad that there's no real multiplayer mode in the second one, but hey, sometimes you gotta do what fits to make it fit. That's a good motto. Not really. But I guess it kinda is. Idk.
This Wiki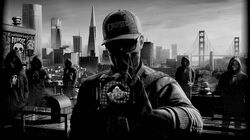 On this wiki, I am a trustworthy admin bureaucrat that helps all users on the wiki. I scan the wiki daily for any vandalism, revert it (if there's any), and warn/block the user(s) responsible. I also scan the wiki for anything that needs cleanup, and clean it up. I'm basically what all wikis see in an admin.
Also, I may seem strict, but this is to get the wiki into shape and get it into the best possible position. I'm actually very friendly and you can contact me if you want to chat, or have any wiki-related problems. I'll usually respond ASAP, provided that the time I'm contacted is reasonable (remember, I live in NYC so use Eastern Time.) So if it's 3:00 PM where you live and 1:00 AM in New York, chances are I'm not gonna answer right away (I will, of course, when I look at it). So you have to do the conversions.
Wiki Milestones
April 20, 2015: Chris6d joins this wiki.
June 13, 2016: Chris6d is promoted to admin.
July 2016: Chris6d hits 1,000 edits.
September 2016: Chris6d hits 2,000 edits.
November 2016: Chris6d hits 3,000 and 4,000 edits. He is promoted to bureaucrat on November 18.
December 2016: Chris6d hits 5,000 edits. Halfway to 10K.
January 30, 2017: Chris6d hits 6,000 edits. Boy, there's no stoppin' this guy.
June 12, 2017: Chris6d hits 7,000 edits.
January 3, 2018: Chris6d hits 8,000 edits.
June 27, 2018: Chris6d hits 9,000 edits.
September 17, 2019: Chris6d hits 10,000 edits!
Gallery
Community content is available under
CC-BY-SA
unless otherwise noted.