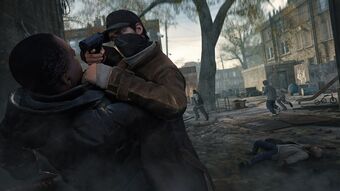 The Wards is one of six districts in Watch Dogs' rendition of Chicago.
Description
Geographically, the Wards is one of the southernmost districts.
The district is one of the low-income areas of Chicago and can be instantly characterized by cheaper housing, low-grade shops, poorly maintained cars, and relatively high crime rates. The area is described by the developers as "a place you're not going to want to be alone in after dark", confirming its reputation for crime and gang culture. Most of the population there is either Hispanic or African-American. Workers can be also found here as it is not far from the industrial Brandon Docks district.
The Wards is home to the African-American street gang, the Black Viceroys. Their headquarters, the abandoned public housing project Rossi-Fremont, is located in the district. Most of the district is made up of small houses, housing projects, and apartments buildings. The L-Train tracks run through the district, and it can be noted that the stations appear to be older than other stations.
The Wards is modeled after Chicago's real life neighborhood, Englewood.
Places of Interest
Businesses
CTOS Control Center
The Wards' CTOS Control Center is located not far from Rossi-Fremont, in a protected area in the middle of the district. Aiden must hack it in order to gain access to the Rossi-Fremont systems.
CTOS Towers
Woodpark West Tower
Rossi-Fremont Tower
City Hotspots
There are a total of 14 City Hotspots located in The Wards.
Community content is available under
CC-BY-SA
unless otherwise noted.