New Pokemon Games - The Loop
Play Sound
The Loop is one of six districts in Chicago in Watch Dogs. The neighborhood is named after the L-Train that makes a loop in this area. Its neighbor is Mad Mile.
Description
The Loop is the district for downtown Chicago. Many skyscrapers can be found here. The Chicago River flows through here and can be seen with many boats driving on it. The L-Train is a common sight around here, and Aiden can use it to swiftly get around the area. Watch Dogs' rendition of Chicago also features the famous L-Train Loop in the district. Many high-end cars such as Sonarus LXs, Sunrims, Cavales, Kigen AWDs, Lithium SPs, Köln 500S, and even Scafati GTs can be found in The Loop with ease. Public Service vehicles such as Cavale Taxi Cabs and Minivan Cab can also commonly be found here. Trucks will spawn here as well, but they are not as common as they are in Brandon Docks. 
Subdivisions
City Hall
Downtown
Financial Circle
Soto Point
Riverside
South Side Campus
Beckham Plaza
Theatre Square
Century Parkway
Places of Interest
Businesses
CTOS Control Center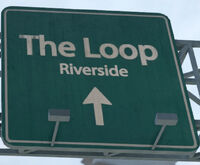 The CTOS Control Center is located in the middle of the district, in a construction site. It's revealed by Clara (under the identity BadBoy17) that hacker group DedSec unsuccessfully attacked that center and as a result Blume added more armed guards. Aiden must hack in it in order to identify the man who ordered a prank call on Aiden's sister.
CTOS Towers
Theatre Square Tower
South Side Campus Tower
Riverside Tower
City Hotspots
There are a total of 37 City Hotspots located in The Loop.
Cash Runs
There are a total of 11 Cash Runs located in The Loop.
Trivia
The Loop is the only district that has a completely real-life counterpart. The other districts are merely based on a mix of real-life neighborhoods in Chicago.