| | |
| --- | --- |
| | This article or section contains insufficient information and is considered a stub. You can assist this wiki by expanding it as much as you can. |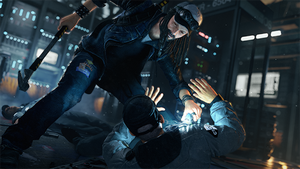 The Taser is a minor weapon in Watch Dogs and a major weapon in Watch Dogs 2.
Overview
In Watch Dogs: Bad Blood, the Taser is a small blue device which T-Bone occasionally uses as a melee weapon in place of his wrench. In Watch Dogs 2, Marcus Holloway uses a small pistol-like weapon that fires barbs attached by wires to batteries, causing temporary paralysis. It can shock anyone unconscious on contact.
Watch Dogs
The taser briefly appears in the mission Hope is a Sad Thing, when T-Bone uses it on Aiden.
Watch Dogs: Bad Blood
The Taser appears in Watch Dogs: Bad Blood, acting for T-Bone as a counterpart of Aiden's baton, being able to shock anyone unconscious on close contact much like Aiden can knock people unconscious with the baton. It is a melee weapon.
Watch Dogs 2
The Taser appears in Watch Dogs 2, named the 2EZ (play on "too easy"). It is a 3D-printed stun gun owned by Marcus Holloway from the beginning of the game, and can knockout regular enemies on contact. The player can actually use the 2EZ to play through the entire game without ever killing a single enemy, if they so desire. The 2EZ can be used as a non-lethal means to incapacitate targets at a distance, helping to facilitate stealthier, more pacifistic gameplay. The weapon is muzzle-loaded using single-shot cartridges. Police officers and Umeni Security Corps are also armed with hand-held tasers. They use it against civilians or the player if invoked. Civilians will be knocked down instantly, but the player will only take slight damage.
Trivia
In Watch Dogs 2, in the mission Motherload, it is revealed that Wrench also uses the 2EZ stun gun.
In Watch Dogs 2, Marcus has seemingly unlimited ammo for the 2EZ stun gun. It is the only gun that Marcus cannot replace.
Community content is available under
CC-BY-SA
unless otherwise noted.