No Man's Sky Update - The Loop
Play Sound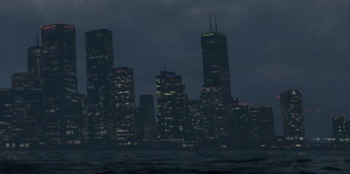 Mad Mile is a district in Watch Dogs' rendition of Chicago and one of the two downtown districts in the game. Its neighbor is The Loop.
Description
The district is a relatively affluent inner-city region, immediately north of The Loop. It is separated from The Loop by the famous Chicago River and the draw bridges that connect it.
The area is characterized by modern architecture and structures, expensive cars, high-end weapons stores and high-class hotels. While the Mad Mile is not a residential area, it is definitely an affluent one, with historic buildings and countless upper-class shops.
This is the wealthiest and most modern district of the city. Dermot Quinn's hotel, the Merlaut, can be found east of the district. The L-Train system runs through Mad Mile, arriving from The Loop, doing a small 'loop' inside the district then going back to The Loop. It can be noticed that Mad Mile train stations are the most modern featured in-game.
Influence
The name "Mad Mile" is a parody of "Mag Mile", a nickname for the Magnificent Mile, a well-known section of Michigan Avenue in real-life Chicago. However, the neighborhood itself is based on the Near North Side district of the real life Chicago.
ctOS control center
The local ctOS control center is located in eastern Mad Mile, just south to the Merlaut Hotel. Aiden will have to hack it to track Nicholas Crispin down during the course of the storyline.
ctOS Towers
River East Tower
Gold Coast Tower
Franklin Tower
City Hotspots
There are a total of 23 City Hotspots located in Mad Mile.
Cash Runs
There are a total of 10 Cash Runs located in Mad Mile.
Videos