No Man's Sky Update - The Loop
Play Sound
MANUFACTURER


Landrock Motors

Landrock Motors is a vehicle manufacturer in the Watch Dogs series.
Description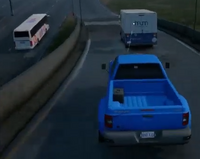 Landrock Motors manufactures heavy vehicles oriented for utility/cargo purposes, as well as an emergency vehicle. Its logo is a clear play on the Audi logo. Their product designs are heavily influenced by Chevrolet and Ford models, with only two vehicles inspired by vehicles from foreign manufacturers.
The company also appears Ubisoft's Tom Clancy's Ghost Recon Wildlands as a manufacturer of heavy vehicles. Interestingly enough, one of their vehicles found in Ghost Recon Wildlands is a much older interpretation of the Landrock Van 2500.
Landrock vehicles from the Watch Dogs universe also appear in Far Cry 5. Two of Hierarch's models, the Wanderer and V200 are based on the Landrock Van 1500 and Landrock Van 2500 respectively.
Vehicles
Image
Vehicle
Style
Based On
Notes

Ambulance
Ambulance
Based on the Landrock Van 2500.

Coach
Coach
X1TET Volvo B12B
The largest and only public transport vehicle in the manufacture, despite not made by MatarHorn Trucks

Conqueror
Off-road SUV
Land Rover Defender 110
Conqueror Sport
Off-road SUV
Modified powerful variant of the Conqueror.

Cube Truck
Light commercial truck
Box variant of the Landrock Van 2500, and the non-emergency version of the Ambulance.

Danger Mobile
HAZMAT Ambulance
Based on the Landrock Van 2500.

Special variant of the Ambulance.

EL-7
Mid-size luxury SUV
2013-present Range Rover Sport
Also available as an Albion variant.

Landrock Van 1500
Classic Van
Classic Passenger Van

Third generation Ford Econoline

Available as a taco van in Watch Dogs.

Landrock Van 2500
Van
Ford E-Series (E-350 Ext.)

Relegater
Delivery van
90s Chevy/GMC Step van
Available as an ice cream truck in Watch Dogs and Watch Dogs 2 and replaces the taco van variant of the Landrock Van 1500 in the second game.

Tributary 1500
Mid-size civilian pickup truck
Nissan Titan
Toyota Tundra
Thirteenth generation Ford F-150

Tributary 3500
Heavy-duty crew-cab pickup truck
2011-2014 Ford F-450