| | |
| --- | --- |
| | This article is in need of more images to give readers a better understanding of the content. You can help the wiki by adding a clear image(s) to the article to enhance it. |
Ghost Signals

Side Mission

Appears in
Watch Dogs 2
Followers gained
18,000
Ghost Signals is a Side Operation in Watch Dogs 2.
Plot
Data Chase
After hearing a whale call coming out of a speaker, Marcus hacks the speaker and receives a series of texts about whale hunting. Marcus calls Dedsec and explains that he's hearing the 52-hertz whale. Sitara is confused and asks for context. Wrench explains the history of the whale, and Marcus mentions that its call was used in an NSA hacker trap operation where hackers solved the puzzle and were recruited into the NSA under threat of arrest. He excitedly mentions that he has traced the origin of the signal. Sitara asks Marcus not to follow the signal, but he is undeterred.
Marcus follows the signal to a room in Fort Point. Sitara implores him to leave, but Marcus ignores her again, and hacks the server. The door to the room locks, and Marcus solves a complex puzzle to unlock the door.
Sitara asks Marcus if he's finished with the puzzle, and he mentions that the second half of the puzzle was a trail of devices that led to the source. Marcus hacked the devices and followed the trail to a large building in a cemetery.
Whiteout
Marcus hacked the NSA servers and deleted the evidence of his search and the data of two other hackers. Marcus hopes that when the NSA fails to contact the other hackers, they'll join Dedsec instead.
Chapters
Data Chase
Objective: Investigate the 52Hz signal; Find a way out of the room; Locate the rooftop signal relays; Track the signal back to its origin [0/6]; 
Brief: We've picked up signals from Catcall - remnants of an early NSA anti-hacker operation. This dinosaur code is a part of hacker history, so of course we want to go find where it's coming from... maybe even steal it.
Whiteout
Objective: Erase traces of DedSec's presence
Brief: The Catcalltrap has led us to Fort Point. We need to make sure any traces of DedSec's presence are wiped from the NSA hardware.
Intercepted Texts
There are two intercepted texts obtained during this mission:
Intercepted Text #1 appears when the player hacks the Blume exterior speaker to unlock this mission.
Intercepted Text #2 appears when the player hacks the server at Fort Point.
Intercepted Text #1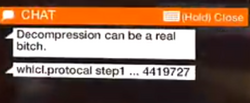 "When chasing whales...
Be careful that you don't dive too deep.
Decompression can be a real bitch.
whlcl.protocal step1 ... 4419727"
Intercepted Text #2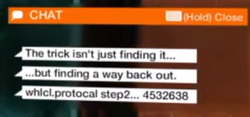 "Is there treasure in the belly of the beast?
The trick isn't just finding it...
...but finding a way back out.
whlcl.protocal step2... 4532638"
Community content is available under
CC-BY-SA
unless otherwise noted.