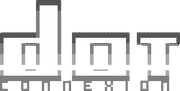 ❝ I hope you enjoy viewing, listening, and interacting with the pieces as much as I enjoy putting them together.❞
―Joseph DeMarco
The Dot ConneXion was an art exposition sponsored by popular and eccentric philanthropist Joseph DeMarco and coordinated by Mary Blass. Several modern and digital artists featured included Joy Ndidi Adebayo and Simon Mitchell. This gallery took place at the Ambrose Theatre in Chicago. Its goal was to bring together the most influential young artists at the forefront of the digital art movement called the dotConnexion Collective. The event ended after Joseph DeMarco's death.
Watch Dogs
During the events of Watch Dogs, Aiden Pearce snuck into the Theater to stop Defalt, a hacker and DJ that hacked into The Bunker.
A WKZ TV reporter can be seen in front of the entrance covering the exposition event.
Known Sponsors
Known Art Pieces
Trivia
The Dot ConneXion expo has its own viral website: www.dotconnexion.com. The URL of the website can also be obtained by scanning the QR Code that appears in the E3 Gameplay Video.
The waiter inside Dot ConneXion is wearing a cube-shaped hat with a QR code on each face along with the phrase "DRINK?". Scanning it using a QR code reader yields the message "!!!!BRAVO UBISOFT MONTREAL!!!! :)".
On Tuesday, June 28, 2012, the viral website announced in its main page as well as in a viral marketing email that "Joseph DeMarco passed away in a tragic, yet unexplained accident" and that "out of respect for his friends and family, the Dot ConneXion exhibition will be cancelled."
Community content is available under
CC-BY-SA
unless otherwise noted.